Alex Figar: "if I really wanted to work in the industry there was I good chance I'd have to create my own opportunities"
3rd year student Alex Figar is the Founder of Big Island Games and Co-Founder of Games Go West. Through the Bachelor of Entrepreneurship (Games Design and Simulation) he's currently developing several games including Interstellar Exploration, Poly Planets and a VR Co-op Game. 

Alex's product closest to launch is a board game called Volcanic Vacation.
"The reason I went with the Bachelor of Entrepreneurship was because I was aware of how hard the industry was to get in to and that if I really wanted to work in the industry there was I good chance I'd have to create my own opportunities," says Alex.
This degree at WSU is an innovative approach to training the next generation of high impact entrepreneurs by providing knowledge and developing practical skills. Over the last year Alex moved into the games industry, specifically working on virtual reality and augmented reality projects
"At the end of high school, I knew I wanted to do game development, however when looking at different courses it was quite hard to find one that I wanted to enrol in. Most university game development courses looked pretty similar and had a lot of graduates who couldn't find work due to the competitive nature of the industry," he said.
The program aims to guide students through all phases of their entrepreneurship journey: from forming a team to helping with pitching their ideas to potential investors and developing strategies for obtaining funding. For Alex, it allowed him to discover how to build his own opportunities in a competitive industry.
"I do believe that I wouldn't even be considering starting my own game studio right now had I not done the Bachelor of Entrepreneurship. Learning not to be scared of failure is probably the biggest change. Failure is part of learning and in the past, it has stopped me from ever finishing anything," says Alex.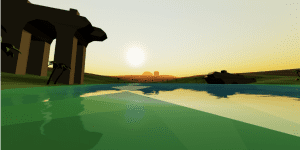 An exclusive preview of the early prototype of Interstellar Explorations from 2018. Source: Alex Figar
As part of the Bachelor of Entrepreneurship students learn about product development, legalities and ethics, financing, operations, funding and start-ups, and growth and exit strategies. They also gain access to real-world placement opportunities in incubators, technology parks and innovation centres. For more information on Alex's projects check out his digital portfolio.